Description
[vc_custom_heading text=""THE KHS FACTORY RACING FASTEST FULL SUSPENSION XC RACING BIKE. THE KHS DESIGN TEAM KNEW EXACTLY WHAT THEY WANTED WHEN BUILDING THIS XC MASTERPIECE. THIS BIKE WINS RACES" – Quinton Spaulding
" font_container="tag:div|font_size:40px|text_align:left|line_height:40px" google_fonts="font_family:Oswald%3A300%2Cregular%2C700|font_style:400%20regular%3A400%3Anormal"]
[vc_custom_heading text="KHS TEAM 29 FS FEATURES" font_container="tag:div|font_size:40PX|text_align:center|color:%23000000|line_height:40PX" google_fonts="font_family:Oswald%3A300%2Cregular%2C700|font_style:700%20bold%20regular%3A700%3Anormal"]

New 29″ Full MSD Carbon, 100mm Travel
Engineered and designed with only one thing in mind: FAST! 
Full MSD carbon frame bike with the best premium race components. Fast and light on climbs, and stable through the rowdiest terrain you can find. Trusted and ridden by XC champs worldwide.
KHS passion for precision engineering and design presents you their advanced technology of materials with this XC Race carbon frame

FOX Float 32, 29 Std/27.5+, Evol Air, Performance, 100mm
Starting at 2.98 pounds, the FOX float 32 fork is our lightest cross-country fork ever. Optimized for 100 mm of travel, this fork lower leg design and narrow crown spacing save weight while the 32 mm upper tubes maintain FOX ride quality. Performance forks retain the same 7000 series aluminum upper tubes as Factory Series, but black anodized upper tubes are used in place of Genuine Kashima Coat.

Mavic Crossmax Light Wheels, 29″
Whether racing or climbing on flowing singletracks, the Mavic crossmax wheels help you to be quick and save energy. These wheels are fast and light with responsiveness and efficiency thanks to the most advanced Mavic technologies. Designed for racing.
Perfectly integrated with the Team 29 FS

SHIMANO XT SERIES
The Shimano XT components set a whole new standard for MTB excellence
POWERFUL: Efficient power transfer and highly responsive braking
DYNAMIC: Rider-Tuned 11-speed gear combinations for superior performance
RESOLUTE: Toughness and reliability on the hardest trails
KHS TEAM 29 FS HIGHLIGHTS
Whether you're racing or training, you want to be the fastest. You want a bike that exceeds expectations in all categories—light weight, strength, speed, and efficiency. This is hands down the fastest full suspension XC mountain bike we make, trimmed with the best parts out there.
It's the choice of the pros here at KHS Factory Racing, and for good reason: it's the fastest XC bike we make.
The dual suspension remote locks out both front and rear shocks simultaneously for climbs and sprints
Accelerating aggressively without losing efficiency to pedal bob is every professional racer and mountain biker enthusiast desire. Confidently take gnarly, technical lines knowing that the Team 29 FS will provide a instant, supple response. You'll feel the difference immediately transitioning from soft to firm as you fly out of corners. You'll experience the beauty of simply being in the moment.
The Team 29 FS will do exactly what you need it to do, exactly when you need it to. No more adjustments on the trail, no more choice between efficiency or control—pure confidence and enjoyment no matter what the race course or trail brings you.
QUINTONS RECOMMENDATIONS:
This is our flagship XC 29 full suspension race bike. If your looking for a XC 29er bike built for speed and agility plus everything and more for XC/ Enduro races then this is the bike. The carbon frame geometry and suspension are perfectly designed for 29-inch wheels for speed and stability on XC terrain. Delivering the best performance on XC climbs, corners and descents. If you are racing then this bike will take you to the podium.
This is our top choice in our arsenal of race bike here at KHS Factory.
[vc_custom_heading text="KHS TEAM 29 FS REVIEWS" font_container="tag:div|font_size:40PX|text_align:center|color:%23000000|line_height:40PX" google_fonts="font_family:Oswald%3A300%2Cregular%2C700|font_style:700%20bold%20regular%3A700%3Anormal"]
"THE KHS TEAM 29 FS IMPRESSIVELY TALKS THE TALK AND WALKS THE WALK "
 The KHS TEAM 29 over exceeded my expectations in a full suspension XC 29er carbon bike. It's very light and the climbs were easier than ever.
READ MORE
"Race ready missile flying you to the podium"
KHS knew what they wanted when designing this bike. I had the opportunity in trying it out at the last bootleg XC race and boy oh boy was I ecstatic! Very light and the way it handled the rocky singletrack trails it felt as if this bike was systematically perfected for my body type! I loved it!
READ MORE

"Big and light wheels and tires, very fast and sturdy at a reasonable price."
Great looking bike overall. Have no problems with it. Cuts up the steep MTB trails and handles very well on rough trails. I'm a big guy so this bike is light for me and over exceeded my expectations when purchasing it.
Read More
[vc_custom_heading text="SPECIFICATIONS" font_container="tag:div|font_size:40PX|text_align:center|color:%23000000|line_height:40PX" google_fonts="font_family:Oswald%3A300%2Cregular%2C700|font_style:700%20bold%20regular%3A700%3Anormal"]
Frame
New 29″ Full MSD Carbon w/ Internal Cable Routing, 100mm Travel, 1-1/8~ 1.5″ Taper, 12x148mm Boost, PF92, 27.5 Plus Compatible
Fork
FOX Float 32, 29 Std/27.5+, Evol Air, Performance, 100mm,Fit4, 2-Pos Remote Lock-Out, External Rebound Adjust, 1-1/8~1.5″ Taper, 15mm X 110 QR Boost
Rear Shock
FOX Float DPS, Performance Elite, 2-Pos Remote, Evol
Headset
FSA Orbit C-40-/48CF, N.42/48CF, 1-1/8″~1.5″ Integrated, Carbon Cap
Rims
Mavic Crossmax Light Wheel Set, 29″ Disc, Straight Pullw/15x110mm Boost Ft & 12x148mm Boost Rr Thru-Axle, Tubeless-Ready
Hubs (F/R)
Mavic Crossmax Light, 15x110mm Boost, 12x148mm Boost, Wheel Set
Tires
Kenda Saber Pro, 120TPI Folding, Tubeless-Ready, 29×2.2
Spokes
Mavic Crossmax Light, Wheel Set
Derailleur, Front
n/a
Derailleur, Rear
Shimano XT RD-M8000
Shifter
Shimano XT, SL-M8000, 11-Speed, Trigger, Right Only, I-Spec II
Chain
KMC X11EL-1 w/MissingLink
Crankset
Shimano XT M8000, 2-pc Hollowtech II, 34T, Boost, PF92, S: 170, M-L: 175
BB
FSA PF92, BB-CFM92
Cassette
Shimano SLX CS-M7000, 11-46T, 11-Speed
Pedals
n/a
Seatpost
Q2 Team Full Carbon, 31.6x350mm
Saddle
WTB SL8 Pro
Handlebar
Wren Carbon, Flat Riser, 740mm x 5mm, 31.8mm
Stem
Wren Forged Ultra Light, 4-Bolt, 6D, 31.8mm, S: 70mm, M-L: 80mm
Grips
Q2 Lock-on
Brake Levers
Shimano MT501, Servo Wave w/I-Spec II
Brakes
Shimano MT501, Hydraulic Disc, Servo Wave, 180/160mm
Wave12 Rotors
Color
Team
Frame Size
S/15.5, M/17.5, L/19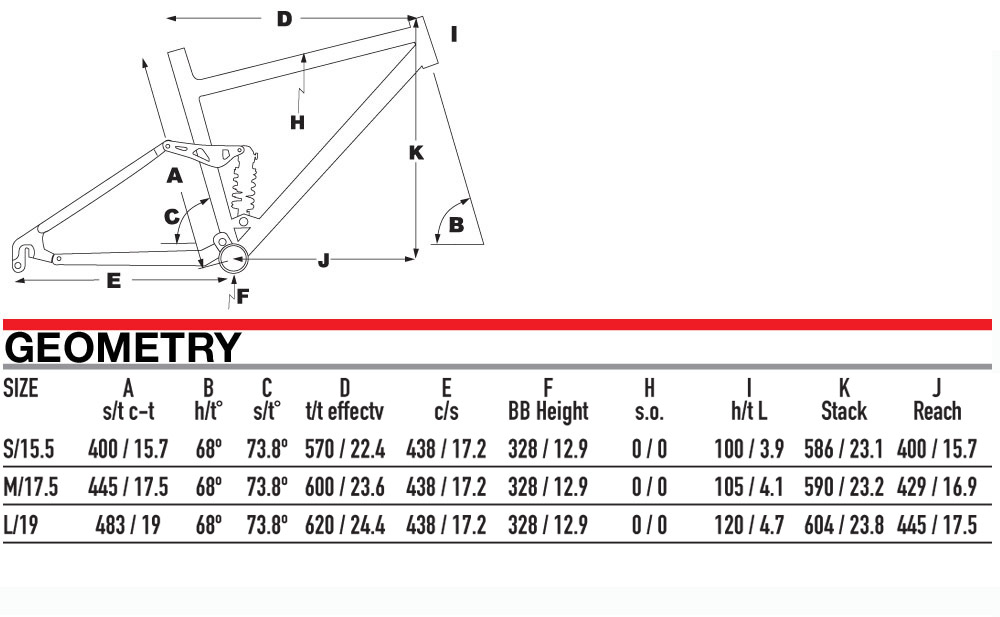 [vc_custom_heading text="COMMENTS" font_container="tag:div|font_size:40PX|text_align:center|color:%23000000|line_height:40PX" google_fonts="font_family:Oswald%3A300%2Cregular%2C700|font_style:700%20bold%20regular%3A700%3Anormal"][vc_wp_text]
/** * RECOMMENDED CONFIGURATION VARIABLES: EDIT AND UNCOMMENT THE SECTION BELOW TO INSERT DYNAMIC VALUES FROM YOUR PLATFORM OR CMS. * LEARN WHY DEFINING THESE VARIABLES IS IMPORTANT: https://disqus.com/admin/universalcode/#configuration-variables*/ /* var disqus_config = function () { this.page.url = PAGE_URL; // Replace PAGE_URL with your page's canonical URL variable this.page.identifier = PAGE_IDENTIFIER; // Replace PAGE_IDENTIFIER with your page's unique identifier variable }; */ (function() { // DON'T EDIT BELOW THIS LINE var d = document, s = d.createElement('script'); s.src = 'https://khs-factory-racing-1.disqus.com/embed.js'; s.setAttribute('data-timestamp', +new Date()); (d.head || d.body).appendChild(s); })();
[/vc_wp_text]
RELATED PRODUCTS
[ess_grid alias="btm XC Sport 29″]