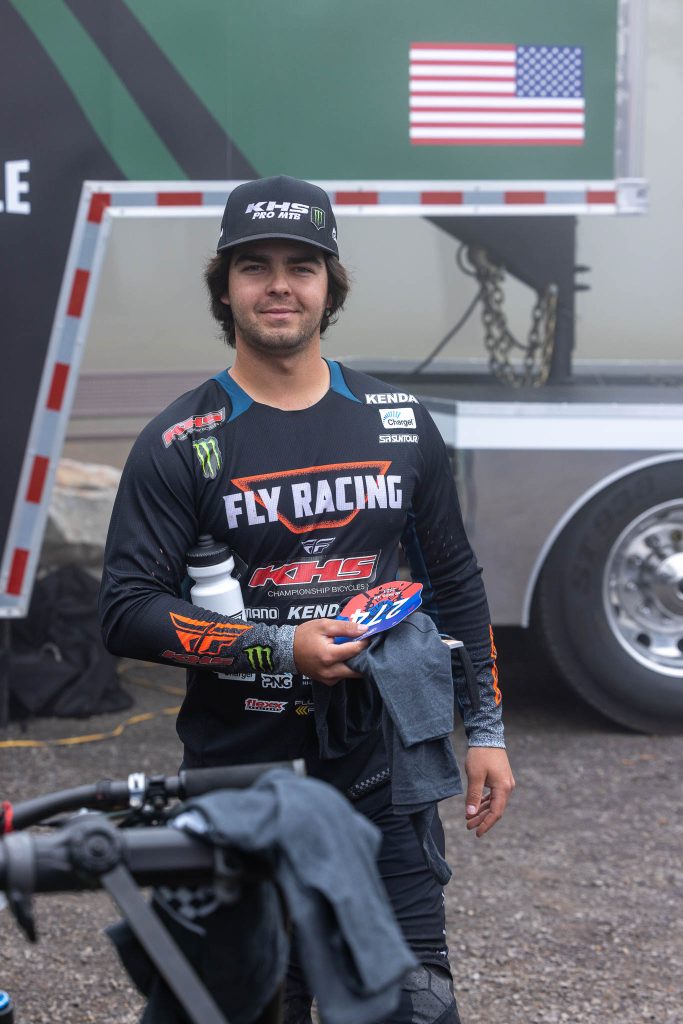 It would bring the best North American Enduro racers from all parts of the continent to compete against each other on a very physically demanding track with weather temperatures hovering around 90° and 90% humidity with eight grueling stages divided into two days. KHS, Pro MTB would be represented in multiple categories. It would be Shane Leslie in Pro male Enduro, Kailey skeleton in Pro female Enduro, Steven Walton would be representing us in the E bike pro category and Nae Kitchen would be holding it down in the U21 Junior Pro category. Racers would arrive Wednesday to acclimate prep their bikes and get ready for a grueling two days of practice. Thursday would allow the first four stages for practice and training, the stages would be mixed conditions of pedally, slick, steep, and overall very challenging. Friday's practice would hold the other final four stages, which were very similar in terrain. Overall it would be a very tough weekend, mainly physically demanding on the riders with such high humidity.
Saturday was the first big day with the first four stages. A lot of action went down with the most noticeable being unfortunately, Kailey Skelton getting a flat tire and pulling out of the complete event due to her time that she had lost on that stage. It would be very hard for her to recover. Shane Leslie would have a slight crash and slot himself in eighth place going into Sunday's finals. Nate Kitchen would have a great day sitting in six place going into his finals. And Steven Walton would be holding it down for the team sitting in second place, heading into Sunday's finals. All the athletes were very tired after day one exerting themselves to the max. They would really have to bring her A game come Sunday which would consist of another demanding day with the final four stages set.
Shane Leslie would maintain a top 11 spot in the Pro field still acclimating to his bike and the complete new team. Shane is definitely striving for podium positions and it won't be much longer until we see him on the box. Nate Kitchen had a demanding final two stages by winning both of them and sliding himself into third place overall in the junior pro category and getting on top of that podium. The day would go to Steven Walton with maintaining consistent runs and coming out on the top step in first place for the Ebike Pro class! The team and all the athletes had a blast at the first Big Mountain Enduro, and look forward to showcasing their skills once again at Rd. 2 in Arizona further down the calendar year . As always, the team wants to thank our sponsors, friends, family, and everyone who helps us succeed. We have a three week break until we head out to Mountain Creek,New Jersey for the second round of the Downhill National series.
-Cheers,
Logan Binggeli – Team Management