Bootleg Canyon mountain bike park has been on the map since the mid-80s and has always seen some of the best World Cup riders like Sam Hill and Steve Peat! It's a one of a kind terrain that is very rocky, loose and gravelly. It takes a very highly skilled athlete to navigate the treacherous terrain of bootleg from top to bottom and put in a solid race run.
Friday was the first day of practice/training. It was no walk in the park, unfortunately weather conditions with over 45mph winds would make it very difficult for all the athletes to get down the hill. Everyone was trying their best to maintain lines and navigate the course. Saturday would be a much better weather situation for the team with absolute blue skies and high 60° weather they were finally able to have a great day at practice and dial all their line selections in for the finals come Sunday. Also with Saturday highlights the Enduro category which would be held down by our athlete Naish Ulmer, he would put in a solid three stages with some of the best racers in the West Coast competing. Naish finished a solid six place in the pro men's Enduro field representing our grassroots program at a higher level.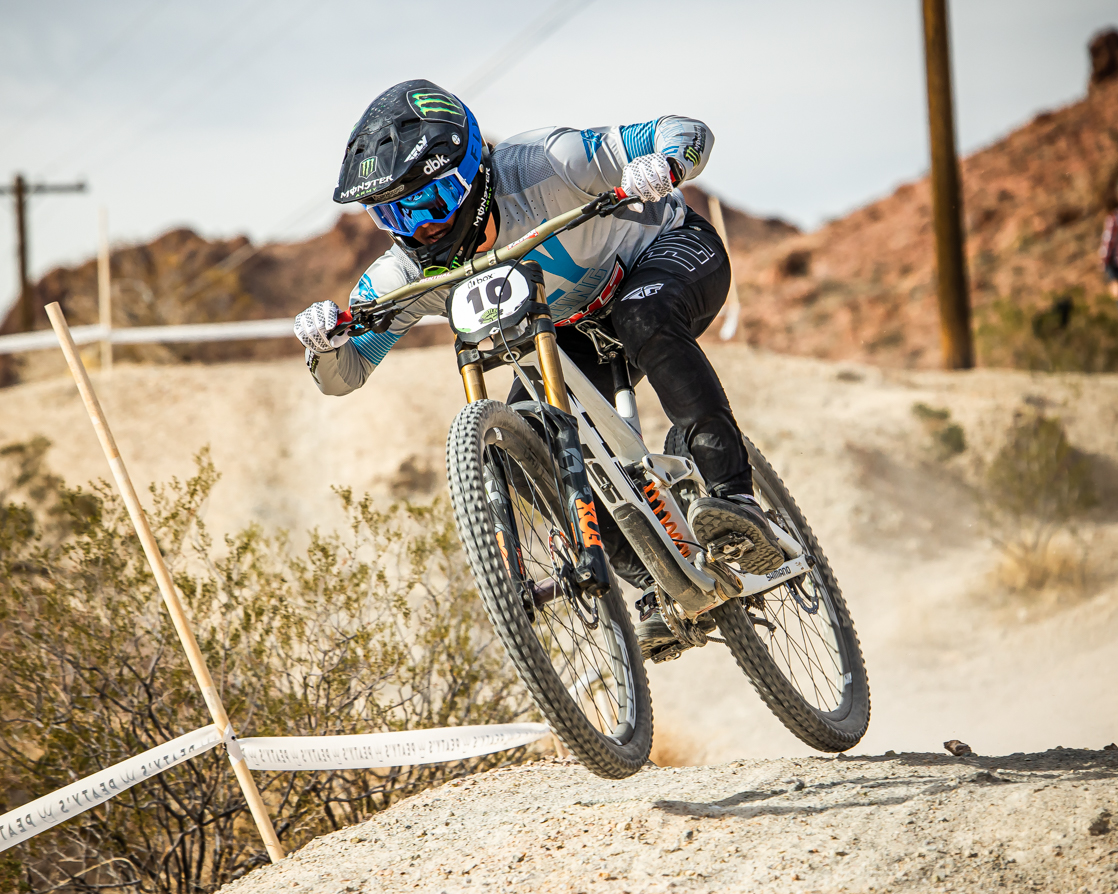 Sunday's final Downhill event would start off with a super huge result from our newly signed athlete representing us in the Junior Pro division at only 16 years of age. Nate Kitchen would take the win over a nine second gap. He was competing against some of the best junior riders in the business with factory riders from GT Racing and other top brands. We were very proud of Nate's State championship accomplishments.

To keep the ball rolling it would be the professional women's Downhill category with Kailey Skelton to come down last, which would create a lot of pressure on herself. Kailey was use to this high-pressure situation and would come blazing across the line with a +30 second lead in front of her competitors. Kailey would also take the Nevada state championship in the pro women's category, to add another title to her trophy set. 

Last but not least would be Nik Nestoroff and Steven Walton representing team KHS Bicycles in the Downhill men's professional category. They both had their work cut out for them competing against some of the best American Downhill racers in the business. With a very physically long demanding track it would be Nik Nestoroff who would claim first place by a 4 second margin. It would also be his fourth consecutive Nevada state championships, since Logan Binggeli back in 2015. That would make it KHS Bicycles 8th consecutive NV, State Championship. Steven Walton was still warming up to the season and under some flu like symptoms he would come in a solid fourth place to round out an amazing weekend with all competitors of the team on the podium.

Bootleg Canyon has always treated team KHS Bicycles very great and we always appreciate all the respect we get from all the fans, family and locals. We want to thank all our sponsors who continuously dedicate their time and effort into keeping the team supplied with the best product in the market. We understand times are very tough and product is limited, we are always grateful to have some of the best equipment to support us through these professional races. Next week we will be at round two of the Fontana, California race series. We plan to keep the ball rolling and continue on the success!
Cheers,
Logan Binggeli | Team Management